The evaluation meeting of the Balkan Volleyball Association (BVA) was held today in Istanbul, Turkey.
Meeting was held under the management of BVA and TVF President Mehmet Akif Üstündağ and Balkan Volleyball Association Secretary General Nilüfer Başak Shimonsky with presence of CEV President Aleksandar Boricic, CEV Vice President Renato Arena, TVF Deputy Head of Leagues Ahmet Göksu, TVF National Teams YKU Bahar Mert, TVF Health Affairs YKU A. Nihan Karaçam Salkaya, TVF Press Officer YKU Mustafa Alpaslan, BVA Marketing Commission member Sezgin Eren, BVA/CEV Head of Marketing and Development Commission Zoran Avramovic, Bulgarian Volleyball Federation President Lubomir Ganev and International Relations Director Valentin Pomakov, Albanian Volleyball Federation President Erlind Pellumbi and Secretary General Albens Vokopola, Bosnia and Herzegovina Volleyball Federation President Milutin Popovic and  Vice President Alija Fatic, Serbian Volleyball Federation President Zoran Gajic and Secretary General Ivan Knezevic, Montenegro Volleyball Federation President Cvetko Pajkovic, North Macedonia Volleyball Federation President Petar Jovanovski and Secretary General Zoran Karanovic, Moldova Volleyball Federation President Artur Romascan, Romania Volleyball Federation President Adin Marin Cojocaru and also Frane Zanjic, from Croatia Volleyball Federation.
At the meeting; TVF & BVA President Mehmet Akif Üstündağ made a presentation about the activities and organizations of the Turkish Volleyball Federation in the past while Nilüfer Başak Shimonsky, BVA Secretary General also made a presentation on the Erasmus+ project.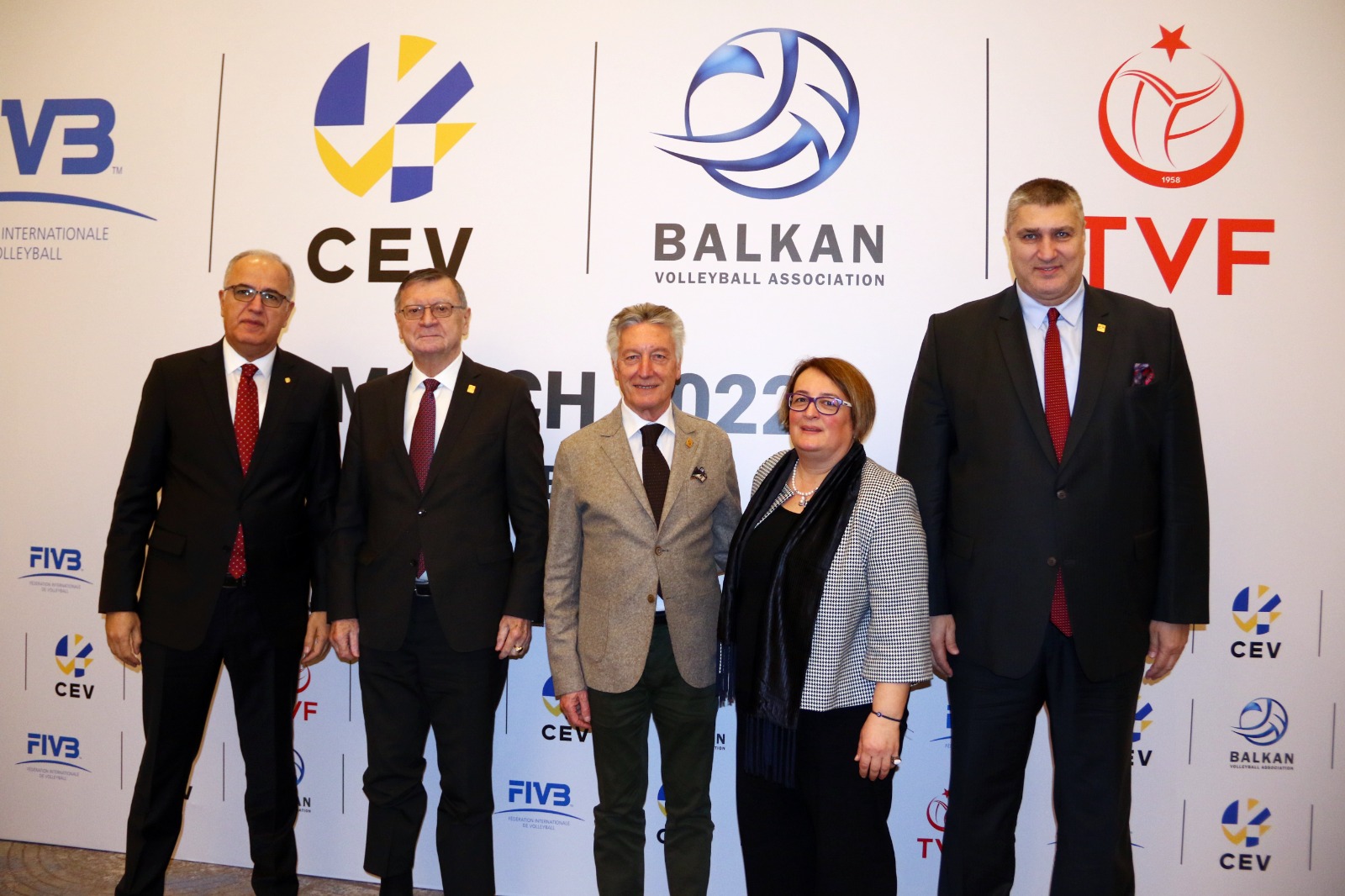 Making the opening speech of the meeting, TVF President Mehmet Akif Üstündağ said:
"Welcome all of you. We are very happy to welcome you here. We would like to work together with you for the development of volleyball. As a country, we wanted to come together with our stakeholders about what we can do to contribute to where volleyball has come from. We know how much importance and support Aleksandar Boricic, President of the European Volleyball Confederation (CEV), gives to the Balkan Volleyball Association. We attach great importance to the suggestions of all our stakeholders. We want to bring volleyball to better points both in our country and in the Balkans. I believe that the Balkan countries will have a say in better and better places in Europe and the world. For this, we want to serve by seeing what we can do together.

I would like to underline that our President, Mr. Recep Tayyip Erdoğan, and our Minister of Foreign Affairs, Mr. Mevlüt Çavuşoğlu, also gave great value and contribution to volleyball. Our Minister of Foreign Affairs, Mevlüt Çavuşoğlu, also said that he would like to meet again in Antalya, which is one of the centers of tourism in the summer months, and host you. I welcome you once again and wish you a useful and productive meeting."
CEV President Aleksandar Boricic said:
"As the European Volleyball Confederation, we are very happy to be together. As the Balkan Volleyball Association, we have stepped into new beginnings after the General Assembly we held. For volleyball, it is very important for us to be in communication all together. I would like to thank BVA & TVF President Mehmet Akif Üstündağ for his wonderful hospitality and for the wonderful organizations they have made for the development of our volleyball in the past. We want to continue this in the new period."
The BVA Evaluation Meeting ended with an exchange of views on contributing to and developing the Balkan Volleyball Association.