For Volei Alba Blaj, the qualification in the semifinals of the second European interclub competition represents a new successful performance, the team from Blaj being present for the fourth time in a European Cup semifinal in the last five years.
Five-time champion of Romania and three-time winner of the Romanian Cup, Volei Alba Blaj has so far played three European Cup finals, in all competitions organized by the European Volleyball Confederation: Champions League (2018), CEV Cup (2019) and Challenge Cup (2021).
One of the strongest women's volleyball teams in Europe, Eczacıbaşı Dynavit Istanbul, will arrive in Târgu Mureș on Wednesday. The Turkish team has an impressive record: it won the Champions League (2015), the CEV Cup (1999, 2018), the Club World Cup (2015, 2016), holds the record for national titles in Turkey (28, of which 17 in a row), where has won 9 Turkish Cups and 5 Super Cups.
This season, Eczacıbaşı Istanbul is fighting for a new national title in one of the strongest championships in Europe, the team prepared by Ferhat Akbaş consisting of world-class players such as Tijana Bošković (Serbia), Adams McKenzie (USA) , Maja Ognjenović (Serbia), Laura Heyrman (Belgium), Hande Baladın (Turkey) and Saliha Şahin (Turkey).
Aware of the value of the opponent, Stevan Ljubičić, the head coach of CSM Volei Alba Blaj, says that his team sees the match as a possibility to measure its competitive level in front of such a titled opponent:
"We are happy to have qualified for the semi-finals, because we have the opportunity to play against one of the strongest teams in Europe, Eczacıbaşı Istanbul. Not only for the club, but also for all those who are part of this team, this semifinal is a great joy and an opportunity to face our forces with a great team, to find out what level we are, from a European point of view, at this time", said Stevan Ljubicic Head Coach CSM Volei Alba Blaj.
The coach of Volei Alba Blaj also spoke about the problems his team faced in the last weeks, when his team was forced to postpone three matches due to the numerous cases of covid in the group:
"Before the covid situation, we reached the best form, I was very happy with the way we played in the first tie against Volero Le Cannet, but then, after two days, everyone in the team got infected with Covid-19. There were seven very difficult days for us, in which we did not train and I can say that we paid this price by losing in five sets a game in our domestic competition, a match that came too fast for us, but that was the situation. Now we have returned to the previous form, every day we try to progress, although we have many matches, many trips and very little time for recovery. I think we can handle all this. At the moment there is still a lot to improve, but we are much better and we are very motivated to meet all our goals for this season."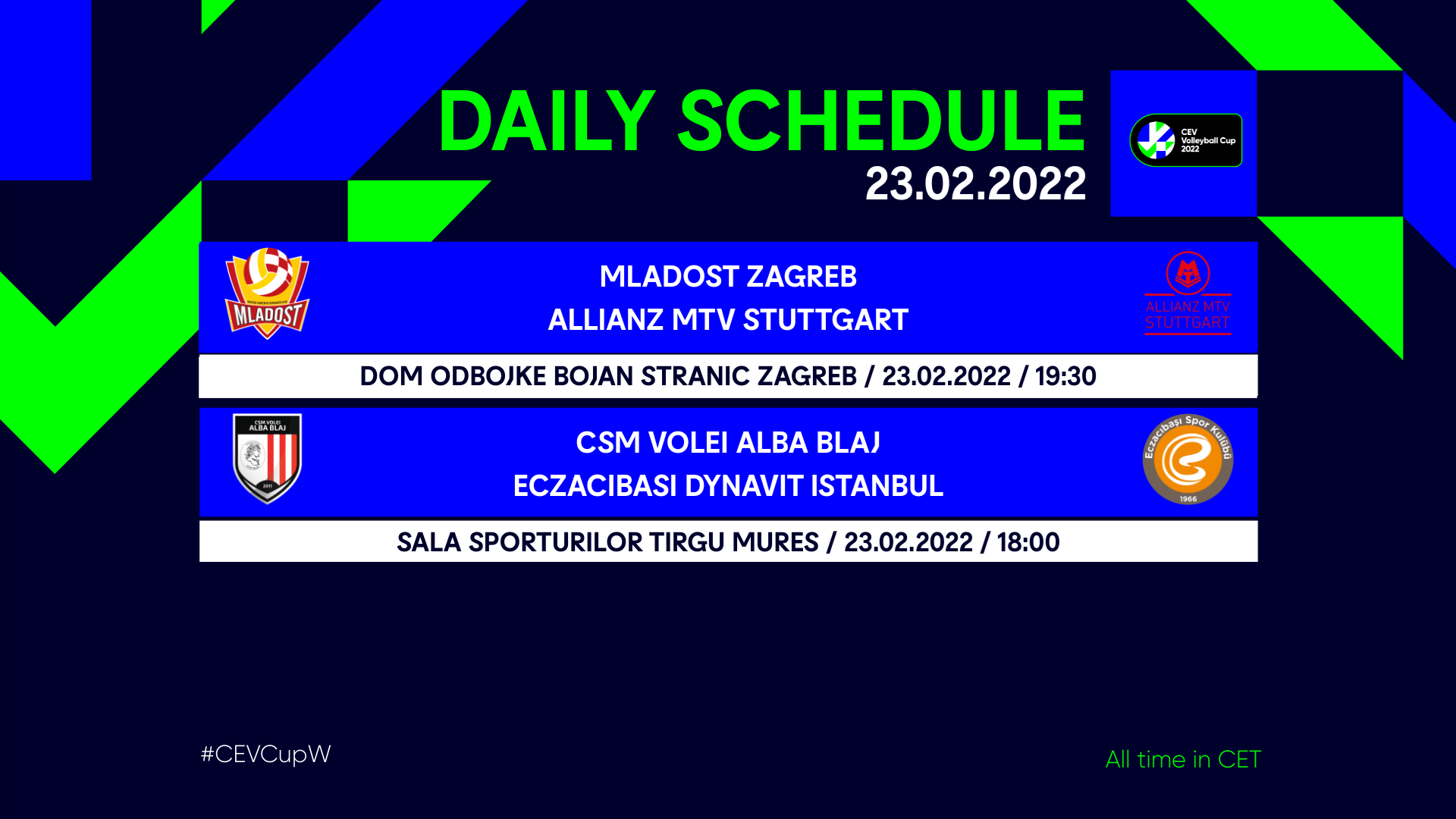 Four times CEV Cup semifinalist, where she was a two-time finalist, the captain of CSM Volei Alba Blaj, Nadja Ninkovic states that her team has nothing to lose from the confrontation with Eczacıbaşı Istanbul:
"I am very happy to qualify for the semifinals, it is a great success for the club and for us as players. The team is fine, we had the problems you know, but everything is fine now. I would say that the match with Eczacıbaşı Istanbul is one of the easiest for us, because in such games, in which you have nothing to lose, there is no pressure of the games in which you start as a favorite. We are excited, motivated and we will give our best on the field. I have played several times in the semifinals and finals of the CEV Cup, I want to be a qualification in the final this time too and I think that these matches are very important especially for the young players, whom I pass on to trust them, to they feel free on the field, because they have nothing to lose. I don't think we need extra motivation, because we all know that Eczacıbaşı is the strongest opponent this season and I think that if we approach the match with confidence and a lot of physical energy, it will be good. "
CSM Volei Alba Blaj won all the matches of this European season and qualified for the semifinals of the CEV Cup after passing Vasas Budapest (3-1 and 3-0), PAOK Thessaloniki (3-1 and 3-0) and Volero Le Cannet (3-0 and 3-2).
Eczacıbaşı Dynavit Istanbul qualified for the semi-finals after beating Zeleznicar Lajkovac (3-0 and 3-0), Calcit Kamnik (3-0 and 3-0) and Uralochka Ekaterinburg (3-0 and 2-3) in the previous rounds.