Tirana dominated in the finals of Albanian Cup, winning both trophies of female and male in the matches played on Sunday. "The blue-and-whites" of the capital city managed this in style, sweeping aside the opponents in the finals and returning to win the second coveted trophy of the Albanian volleyball after a long period.
For Tirana's women, it was a return to the trophy after 11 years, as coach Amarilda Prenga-Sijoni rampaged through the final, beating Skënderbeu in straight sets. The capital's team marched through the first set, leading all the way and never looking back and taking the set 25-15.
The second set was an evenly balanced affair, with both teams fighting for every point in the first half of it. Though Skënderbeu tried to break away in the second half, Tirana roared back, with both teams cancelling each-other's set point, before Prenga's girls won the the 28-26, doubling their lead.
The third set turned out to be a disappointing one for Tatjana Marash's team (with the club director acting as well as the coach of Skënderbeu women's team), as the southeastern girls were all the time chasing the game behind Tirana.
"The blue-and-whites" took the 3rd set too, 25-20, winning the whole contest 3-0 and winning the Albanian Cup after more than a decade. Moreover, it was sweet revenge for Tirana, as it was beaten just a few days ago in 4 sets by Skënderbeu in the final of inaugural women's "Gjergj Kastrioti" League, the newly-formed competition between Albania and Kosova.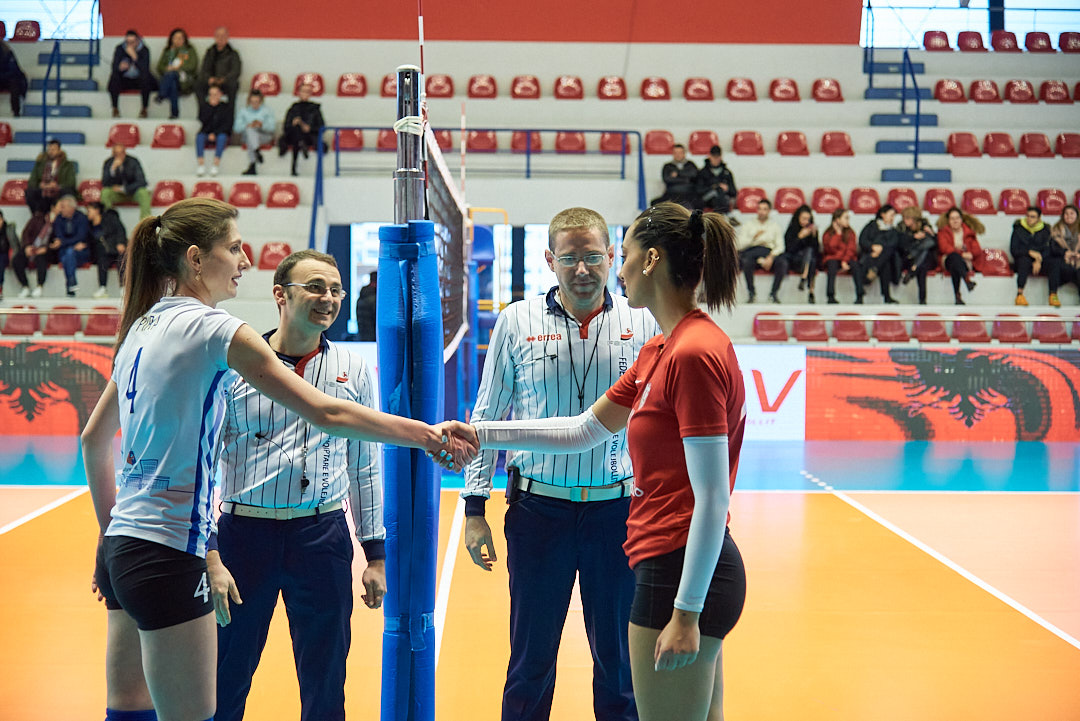 Meanwhile, it was a much longer wait for Tirana's men, who won the Albanian Cup after 26 seasons. Coach Ben Sako's team has dominated thus far in Albania, winning the season's opener, The Federation's Cup, proceeding to with the Independence Cup last November in Prishtina, and the inaugural men's "Gjergj Kastrioti" League, the newly-formed competition between Albania and Kosova just a few days ago.
In the finals of the last two tournaments, "The blue-and-whites" had beaten Erzeni and Sunday's final of the Albanian Cup set the capital city's team one more time against the squad of the small Central Albanian town of Shijak. And this final was no different from the previous two encounters between the two teams.
Tirana took the first set 25-22, but Erzeni, led by the young coach, Parit Uruçi, bounced back fighting, taking the second set 25-21. But "The blue-and-whites" returned dominant, taking the other two sets by a comfortable margin, 24-14 and 25-16, and taking home the trophy after a 3-1 victory.