There are still 15 days left until the start of the sports event that the Macedonian Volleyball family has been looking forward to since the moment CEV announced that Skopje would be one of the cities where EuroVolley 2023 Men was to take place. The excitement could be felt in the air at Tuesday's press conference at the Agency for Youth and Sports, where the trophy of the continental championship and the new jerseys of Team MKD were displayed and promoted.
"There is no better feeling for an athlete when he looks at the trophy of such a high-ranking event. As a handball player, I did not have the opportunity to play at the European Championship at home and that is why I want to tell the Macedonian players that this is a great privilege for them," said the director of the Agency Naumche Mojsoski, a former famous member of the handball national team of the country in the heart of the Balkans.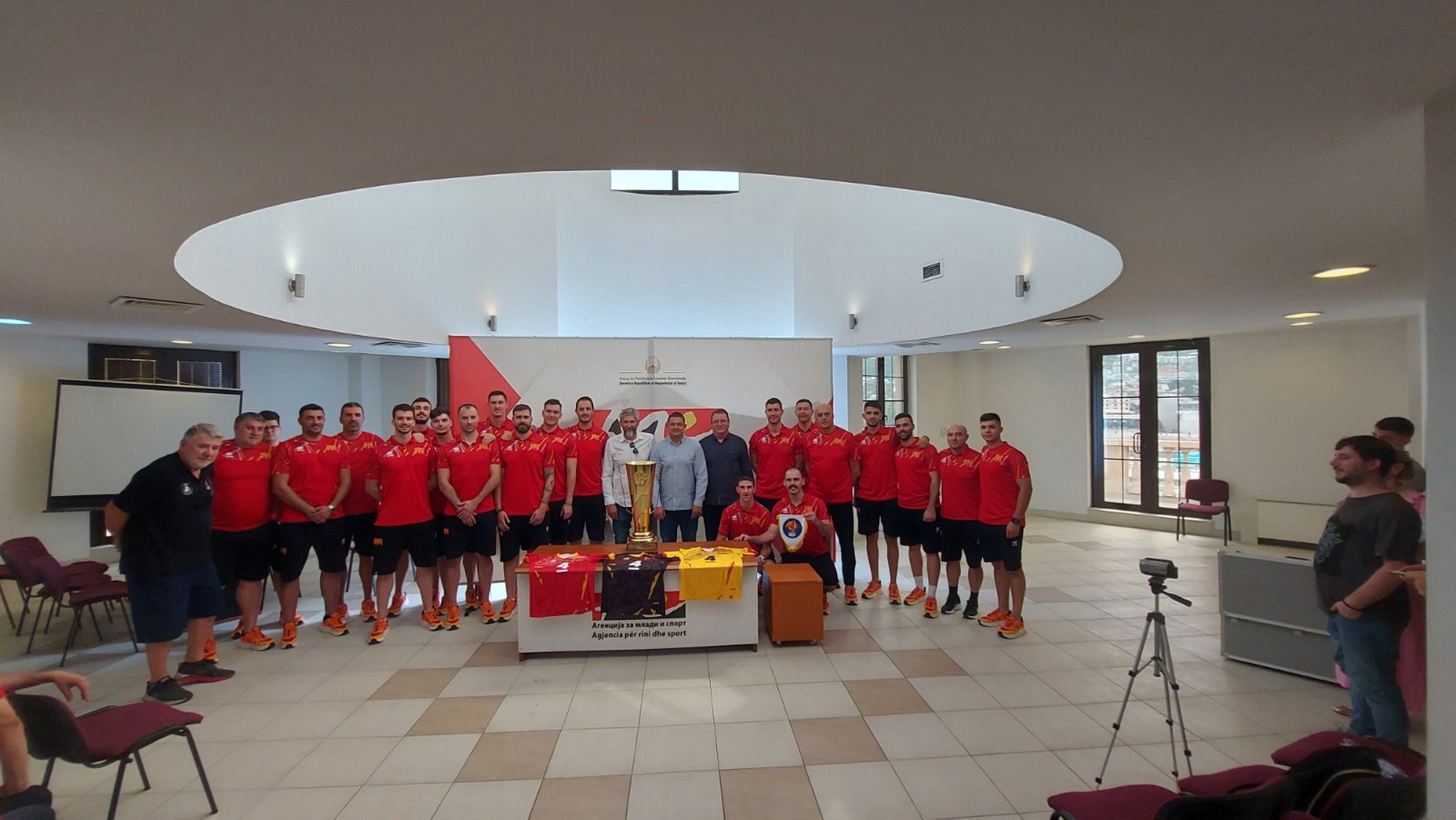 "It is a great honour for us to have the opportunity to draw motivation from watching the trophy for the best European team. We have been working for 30 days, we want to present ourselves in the best possible light, to make our fans happy and thus give additional value to Macedonian Volleyball," said head coach Joshko Milenkoski, who led Türkiye at CEV EuroVolley 2017, but sees the present opportunity as the most satisfying of all his endeavours.
"If we cannot win the trophy, at least let's be the most beautiful at CEV EuroVolley 2023," said the charismatic captain of the Macedonian national team, Nikola Gjorgiev, as a joke, presenting the new design of the red-yellow jerseys. And then he added: "It will be a huge success for us if we play in the Top 16 in Bari. That will mean that we have won this trophy that is in front of you."
Inviting the spectators to come to CEV EuroVolley 2023 and be the seventh player of the Macedonian national team, Gjorgiev used the opportunity to say that he is enjoying these days because from Friday to Sunday the 47th traditional memorial tournament Chajka will take place in Boris Trajkovski hall with visitors from three continents. Egypt, Japan, and Greece should be a good warm-up for the most significant act in the repertoire of Macedonian Volleyball. The red-and-yellow hope that it will be the brightest one as well.