Heraklion, Greece, 12 March 2022 – It's been a long time coming, but historic Panathinaikos Athens are back in the business of collecting trophies, claiming the Women's Greek Cup for the sixth time in the history of the competition but for the first time in twelve years, after coming back from a set down to defeat Thira 3-1 (21-25, 25-22, 25-19, 25-15).
It was Penny Roga who played a pivotal role in Panathinaikos' triumph as the 34-year-old became the first ever libero in the history of the competition to collect the prestigious MVP award.
"It still hasn't sunk in," said Roga after picking up her individual award. "I've been through tough years with Panathinaikos and today's award is recognition. Libero's are not usually in the limelight and despite doing all the 'dirty work', its the spikers and scorers who get all the spotlights. I'm so happy that my first Cup title comes alongside the MVP award."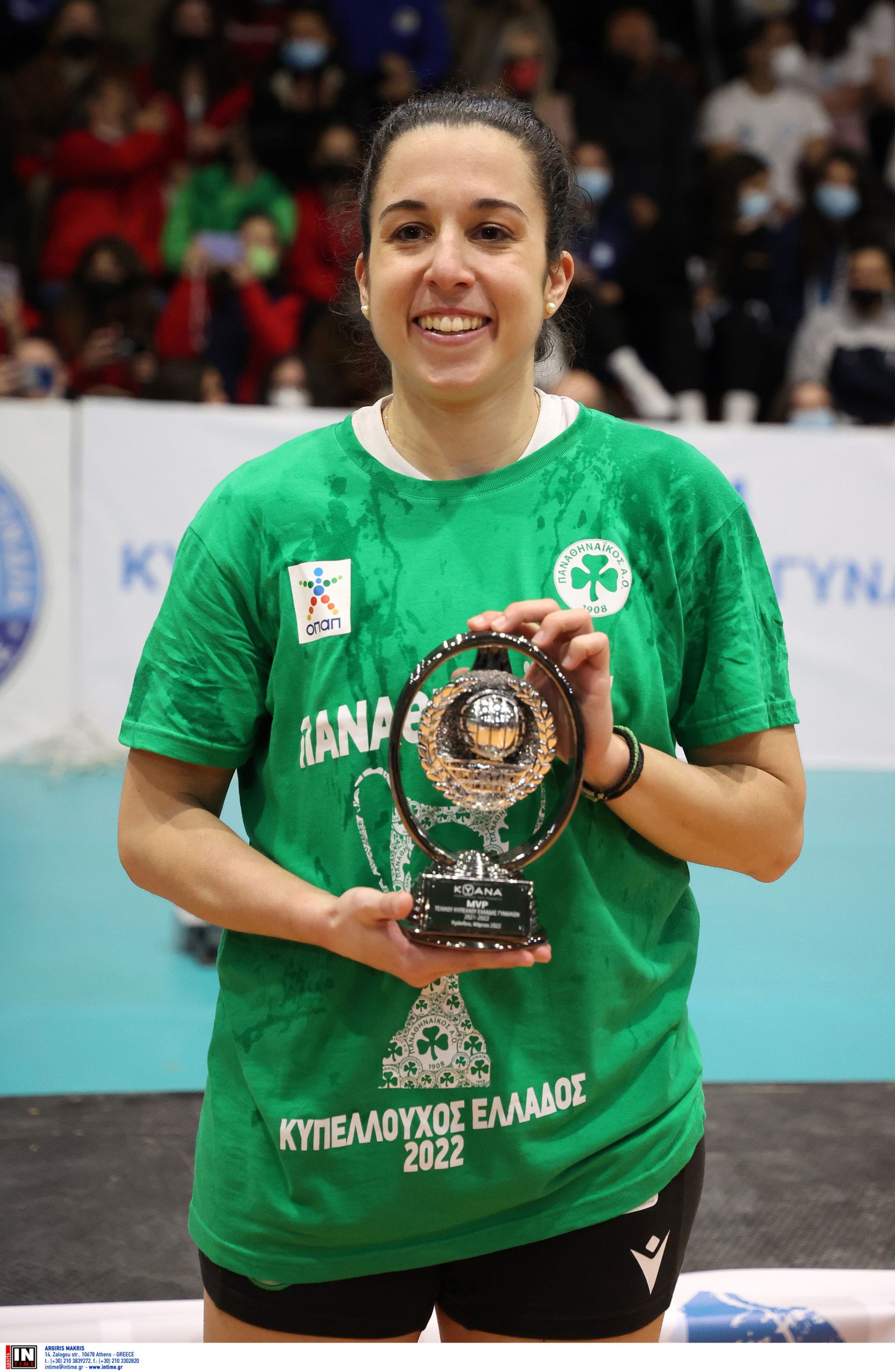 But Panathinaikos' international trio of Canada's Jennifer Cross, Azerbaijan's Margarita Stepanenko and the Netherlands' Maret Grothues each scored 14 points as Greece's Eva Chantava emerged her side's best scorer on 16 points.
Cross was difficult to get past in the middle, contributing six blocks and produced a powerful attacking efficiency of 54% (7/13) – second only to Panathinaikos' other middle blocker Irini Hatziefstratiadou who attacked for 58% (7/12).
"I cannot even describe the emotion," said 27-year-old Hatziefstratiadou after the match. "Since the very start of the season we had set winning the Cup as one of our goals. Panathinaikos is here to stay and I would like to thank our fans who follow us wherever we may travel."
Thira outside hitter Symone Abbott of USA was top scorer of the final on 20 points but that was hardly enough for the Santorini club to claim their first ever title, after losing in the final for the third time running.
Earlier in the competition, Panathinaikos had knocked out Ilysiakos Athens 3-0 (25-9, 25-20, 25-21) in the semifinal of the Final Four, held here in the capital of Crete over the weekend and themed on a call to end the war in Ukraine, as volunteers and players alike sported t-shirts in support of the peace effort.
Thira had previously spectacularly come back from 19-24 down in the first set to defeat Thetis of the Voula suburb of Athens 3-1 (28-26, 25-19, 27-25, 25-20) in the other semifinal.
The Men's Cup Final Four, featuring defending Cup holders PAOK Thessaloniki, Foinikas Syros, Olympiacos Piraeus and Pegasus of the Thessaloniki suburb of Policnhe will be held over the 2-3 April weekend.