The reigning #CLVolleyW champions of VakifBank Istanbul delivered a great comeback in the away match of their semi-finals against their city rivals of Fenerbahce Opet, claiming a 3-0 win and emerging victorious in the Golden Set at 15-12. The players of head coach Giovanni Guidetti had lost the first semi-final at 0-3, but managed to demonstrate a great spirit and mental strength in the deciding match, securing their spot at the #SuperFinalsTurin.
VakifBank, who last year claimed the trophy after 3-1 against A. Carraro Imoco Conegliano, will have the chance to defend their title on May 20, when they will meet another Turkish giant – Eczacibasi Dynavit Istanbul, who only a day earlier defeated Igor Gorgonzola Novara on their way to the Super Final.
This way, the two best teams of this year's edition of the competition, will lock horns next month in Turin in what promises to be a special all-Turkish battle for the Gold.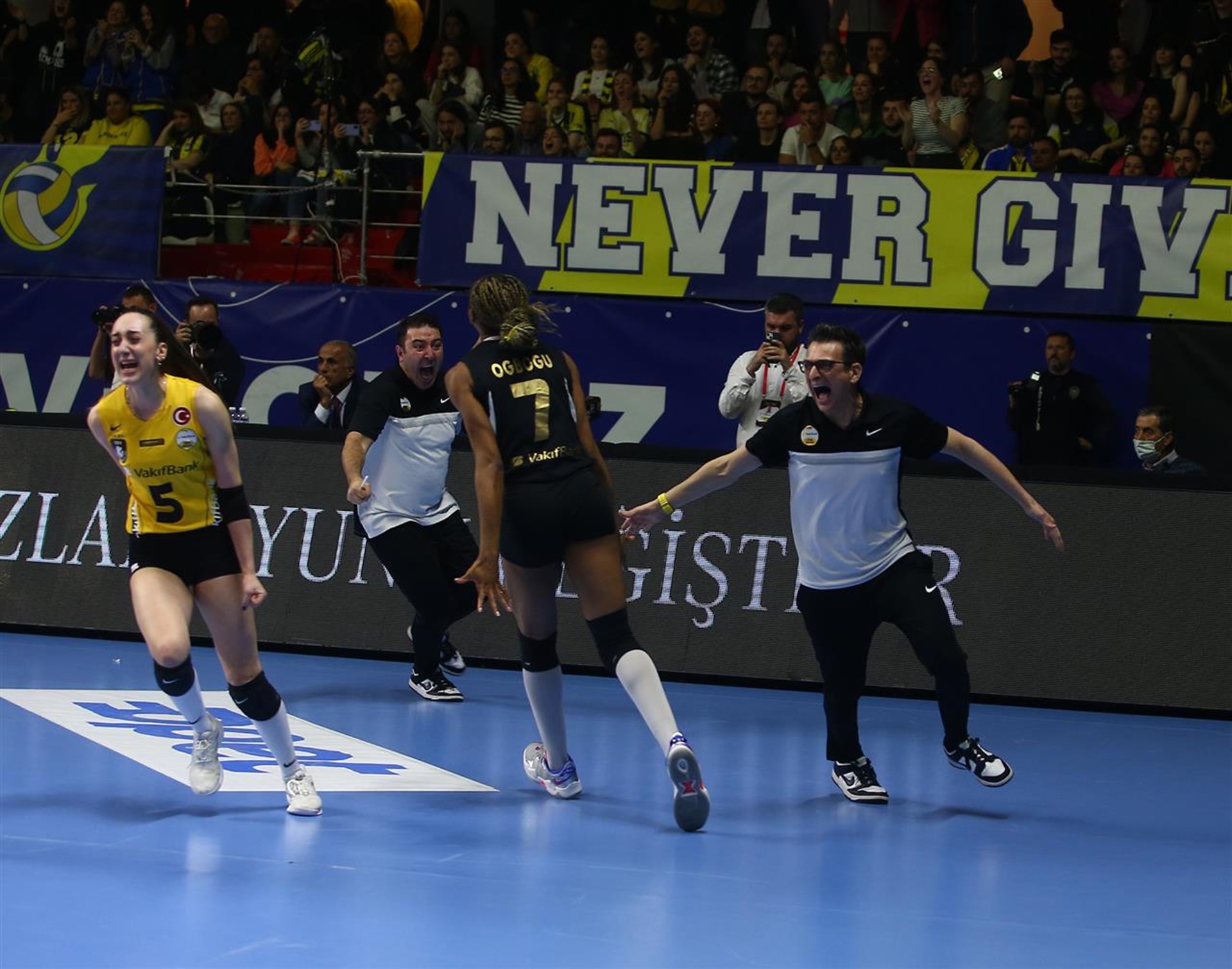 Fenerbahce Opet Istanbul 0-3 VakifBank Istanbul (22-25, 14-25, 22-25; 12-15 in the Golden Set)
The defending champions needed a clear 3–0 or 3-1 win to bring the match into a Golden Set as they suffered a tough loss in the first semi-final (0-3). To the delight of their fans, the did their job right and did not disappoint.
Both teams entered concentrated in the game, playing "a cat-and-mouse" game since the very beginning of the first set. However, after 19-19, VakifBank showed their power and opened at 25-23 with Gabi contributing in this part of the match with seven points. As many as seven kill blocks by VakifBank made the difference in this set, as Fenerbahce did not record a single point from this element.
Inspired by their good performance, the players of Guidetti kept on controlling the game in the next set as well. Excelling on the different Volleyball components (10 to six winning spikes, three to zero kill blocks, four to one aces), they emerged victorious.
The domination on attack was the key factor for VakifBank in the third set, as they finished with 18 to 11 winning spikes. They performed slightly better on the block as well (three to zero), while Fenerbahce could record one more direct point from the serving line.
The Golden Set turned out to be a real nail-biter. None of the teams was giving up, but successful actions on the block after the 12th point helped VakifBank to clinch the victory.
VakifBank's Kara Bajema was named MVP of the game (13 points, 56% exc.), while Paola Egonu became the top scorer with 21 points (57% exc.). For Fenerbahce, Melissa Vargas scored the most (18 pts, 47% exc.)
"I feel incredible, nobody believed in us, but we did it! We showed that as long as you believe in yourself, you can accomplish everything", said Gabriela Guimaraes, xaptain of VakifBank Istanbul
"We played against a great team that did not lose a set for the last two months, but we were very well-prepared. Special thanks to my players. I have a team that knows very well how to play such matches. My players were very motivated, organised and passionate. Today, we had a mountain in front of us to climb, but step by step, we climbed that mountain and reached the top of it", said Giovanni Guidetti head coach of VakifBank Istanbul.
"I am proud of all my teammates. We worked hard and it paid off. I'm so excited for the Big Finale. It will be a very difficult match, but we believe we can win", said Kara Bajema, MVP of the game and player of VakifBank Istanbul