VC Maritza PLOVDIV took their fifth consecutive and seventh overall Bulgaria Cup trophy. In the 2022 final, held in Burgas on Friday evening, the Yellow-and-Blues delivered a 3-0 (25-17, 25-23, 25-23) shutout of DKS VARNA in 75 minutes.
About ten years after winning the national cup in January 2012, the first senior-level trophy in the history of the club, Maritza triumphed as winners of the tournament without losing a single set along the way. The team from Europe's oldest living city mastered a 3-0 (25-14, 25-12, 25-16) clean slate in their quarterfinal against Slaviya SOFIA before producing a 3-0 (25-12, 25-16, 25-18) semi-final shutout of CSKA SOFIA to reach the final in Burgas.
The trophy game was not at all an easy one for Maritza, considered the heavy favourite in any domestic match they have played in recent years. The first set went back and forth through 8-8, before coach Borislav Krachanov's squad could break away in the score. DKS were in control of the scoreboard for most of the second set, even extending their lead to five points at 11-6, but in the money time, after 20-20, Maritza stepped up their efforts to edge forward and double their lead. In a similar fashion, the team from Varna opened a 9-4 lead in set three before Maritza battled it out to gradually regain control and celebrate victorious.
Outside hitter Aleksandra Milanova topped the scorers' chart of the match on 18 points and was awarded as the Most Valuable Player. Silvana Chausheva added another 12 points, while Maritza's former team member Simona Nikolova was DKS's best scorer on 13.
"It was a good final! After the first set, which we won in quite an emphatic manner, we allowed our opponents to play their game and created some headaches for ourselves. The good thing is that we now have the experience and the self-confidence to come out of difficult situations like this. Now we have to recover, mainly emotionally, to be able to prepare in the best possible way for our upcoming Champions League home game against BEZIERS Volley on Tuesday", said Borislav Krachanov, Head coach of VC Maritza PLOVDIV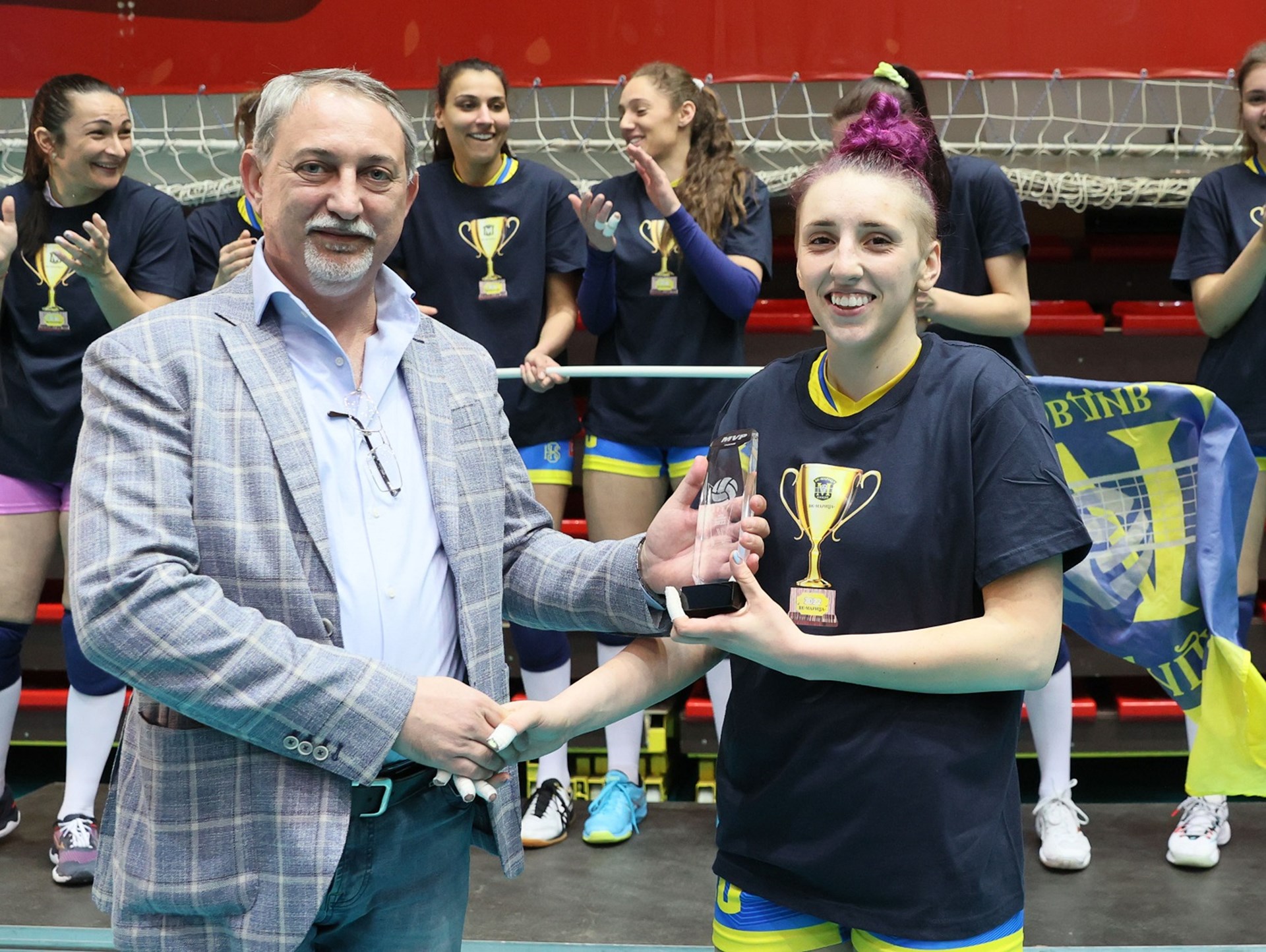 Curiously, the final also offered an interesting clash between father and daughter, i.e. DKS's head coach Stoyan Gunchev against Maritza's setter Kristina Guncheva, and between sisters, Maritza's middle blocker Boryana Angelova against DKS's middle blocker Maya Angelova.
In addition to 2012 and 2022, Maritza won the Bulgaria Cup in 2015, 2017, 2018, 2019 and 2021. In 2020, the Yellow-and-Blues reached the semi-finals and were well on their way to topping the podium again, but the outbreak of the coronavirus pandemic resulted in a premature interruption of the competition. Moreover, Maritza are seven-time back-to-back national champions of Bulgaria since 2015 and they will continue their quest to add another title to their collection in the spring of 2022.